Attention: Small Business Owners
Want to Attract
More Customers?
You probably already know this...
The secret to success today is... getting your business online.
So, you do the natural thing everyone else (including your competitors) is doing...
You setup your "corporate" website...
...then a "corporate" Facebook page...
...maybe a "corporate" Youtube channel after that...
...and if you're up for it, a company LinkedIn profile as well...
...perhaps, you went one step further and even started your own professional blog. Trying very hard to keep to a regular posting schedule. (as though that had ever worked for any small business)
It makes you feel busy, like you're doing a lot of practical things to grow your business...
But, let me ask you an honest question...
Are these activities TRULY rewarding?
Think about this...
Do you really enjoy uploading images on Facebook, adding a caption to each image, begging friends and clients to click on the 'like' or 'share' button?
More importantly: do you even know why you're doing any of these "activities" instead of working on your business?
Because if you're like most small business owners in Singapore, the answer is probably a sad and rather unfortunate... NO!
And this is unsettling as most people took a leap of faith when they jumped into entrepreneurship. Thinking they could spend more time honing their craft instead of having to face a boss who makes them do everything else...
But who would have thought their good intentions would become plagued with so many other unforeseen business building activities. Activities like:
Sales
Business planning
Lead generation
Client management
Employee management
Administrative paperwork
Accounting and bookkeeping
And a whole series of other "work" that doesn't even involve what they actually love doing.
But try as they may...
They find themselves stuck in this vicious cycle as they constantly need to adapt and adjust... just to bring in the sale. Thinking this is the only way out for them.
Well, the good news is... we're about to show you how you can demolish this unfair practice...
Introducing...
Digital Warfare Consultation:
A Modern Day Small Business Strategy for Effective Online Marketing
We know that as a small business owner, you already understand the importance of marketing and advertising.
But because of budget constraints, your advertising efforts have to be lean yet effective. After all, you can't afford to invest in a campaign which involves an unknown amount of "market testing".
In other words, you're really hoping for the best of both worlds. Cheap yet effective marketing!
And we understand what you're going through... because we're a small business ourselves.
Every dollar we invest into marketing has to bring in revenue or at the very least, it has to attract qualified leads for the business.
Thankfully, there are countless strategies and tactics available for small businesses today.
Making it easier right?
Wrong!
After having coached and helped many other small business owners, we realised the biggest challenge for many of them is - how do you get started?
Because of the many different variations of strategies and campaigns available both online and offline.... Many find it near impossible to decide which strategy to work on first.
Worse... they don't have the resources to test every single one of them. Nor the time.
That's where we come in...
After years of tweaking and fine-tuning many marketing formulas, we've developed our unique 'Digital Warfare' methodology.
While this is considered a modern day online marketing strategy... it actually rides on ancient warfare and military strategies used by many renown strategists of their times.
We discovered that while the methods and applications may have changed over the years... the psychology and underlying principles remains the same.
More importantly, because of its progressive nature, the strategy continuously develops on all your previous marketing efforts.
This means, your marketing campaign will keep getting better over time... lower cost, higher returns.
In fact, when you choose to schedule a short consultation with us, you'll discover for yourself why this strategy will work wonders for any small businesses with a professional service to offer.
Here's a quick sneak peek of what this strategy will do for you:
The truth is...
Online marketing doesn't have to be difficult or confusing.
Not when you have a game plan for achieving your goals and marketing objectives.
So... if you want to learn how you can flood your email inbox with leads like this...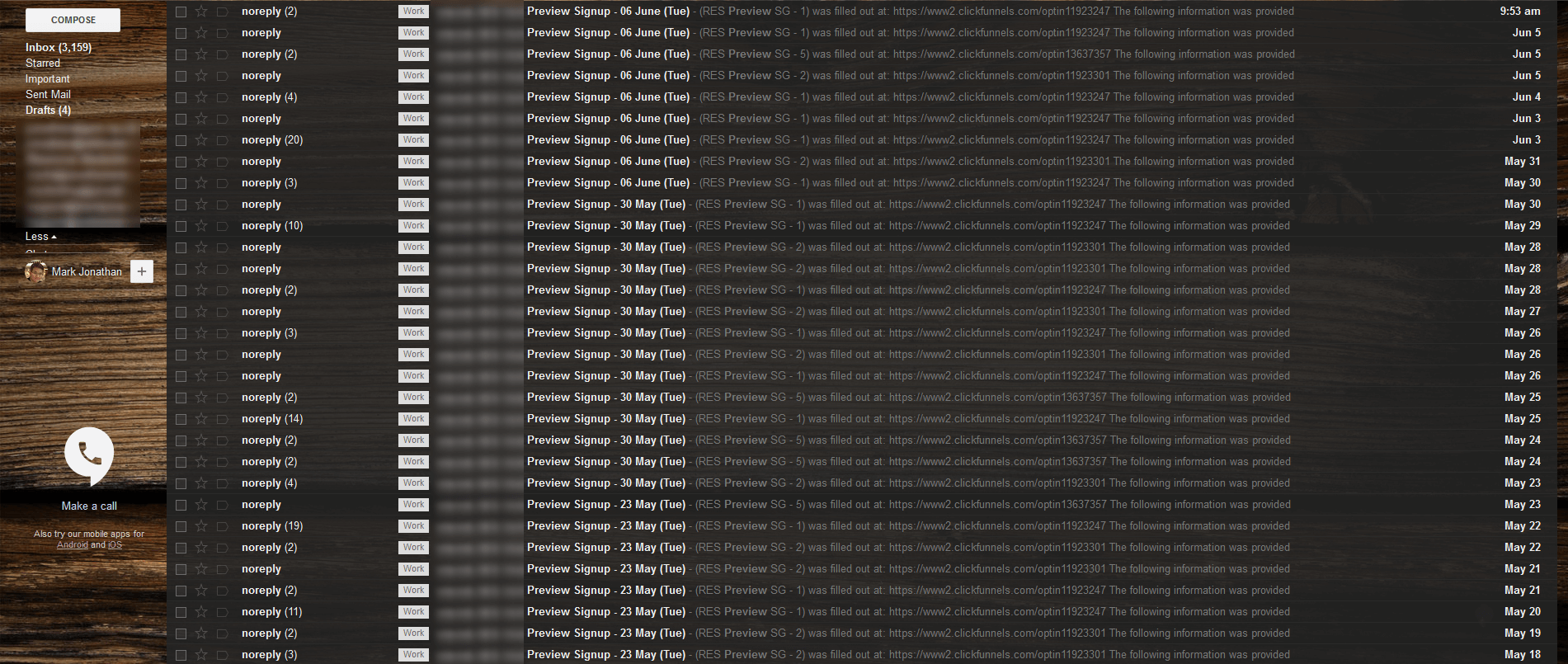 Then Don't Wait... Do This Now!
Fill in the form below to schedule a FREE 1-hour consultation where we'll explore the most cost-effective way to market your business online.
Once you've submitted, I'll contact you via your email address within 48 business hours to arrange a suitable date for us to meet.
(Note: Because of existing client work, we only provide consultation meetings on Monday or Thursdays' afternoon)
During the meeting, we'll review your existing marketing efforts and also show you how to apply the "Digital Warfare" methodology for your business.
If at this point you see value in working together, we'll talk further and see if we can take you on as a client.
This is an important step for us as we have a policy of ring-fencing our existing client's services. That means we won't ever promote the exact same service of a client's competitor.
It gives our clients the peace of mind knowing we'll only focus on growing their business. (Not their competitors')
On the other hand, if you decide not to move forward with us, that's alright with us too. We understand sometimes the timing might not be right for you now.
In any case, your worst case scenario coming down for the meeting is... you'll receive free advice from us and learn how to apply our lean and fit marketing strategy. A strategy we know will drive more leads and customers to your business.
I do have to stress here, that you have to be an action taker to truly benefit from our consultation session. Because the session is all about practical steps and actions to improve your business.
Our goal is to help you save time (and money) focusing your attention on the activities that will get you more sale. But even a million-dollar advice is useless if no action is taken.
Ultimately, this is only for small business owners who are serious about growing their business and appreciate an opportunity when it presents itself.
If that sounds like you, then we want to hear from you.
Fill in the form below and we'll talk real soon.