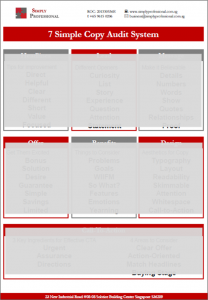 Think of the last time you worked on a flyer, brochure or ad for your business.
How much time and resources did you spend creating it?
And more importantly, did it bring back your ROI?
The truth is that many businesses create an ad hoping to pull in new sales but spend far too little time planning for it.
It's not your fault, perhaps you were never taught how.
Which is why we've put together a simple checklist that covers the 7 key copywriting essentials of any good advertisement copy.
Create powerful sales copy by taking your existing or upcoming ad and test its:
Headlines
Opening Lead
Sales Message
Unique Offer
Customer Benefits
Design Aesthetics
Call-to-Action
Download this FREE checklist and start creating ads that kickstart your business sales cycle.
Download This Copy Audit Checklist